Quality Tailoring at Cotton House!
We understand how time consuming it is to buy a cloth somewhere and carry it to get it stitched at another place. Cotton house is one of the leading Dress shops in Chennai. Now, we have found the perfect solution for this. Yes!!! Cotton house now provides quality Tailoring for the clothes you buy from our store.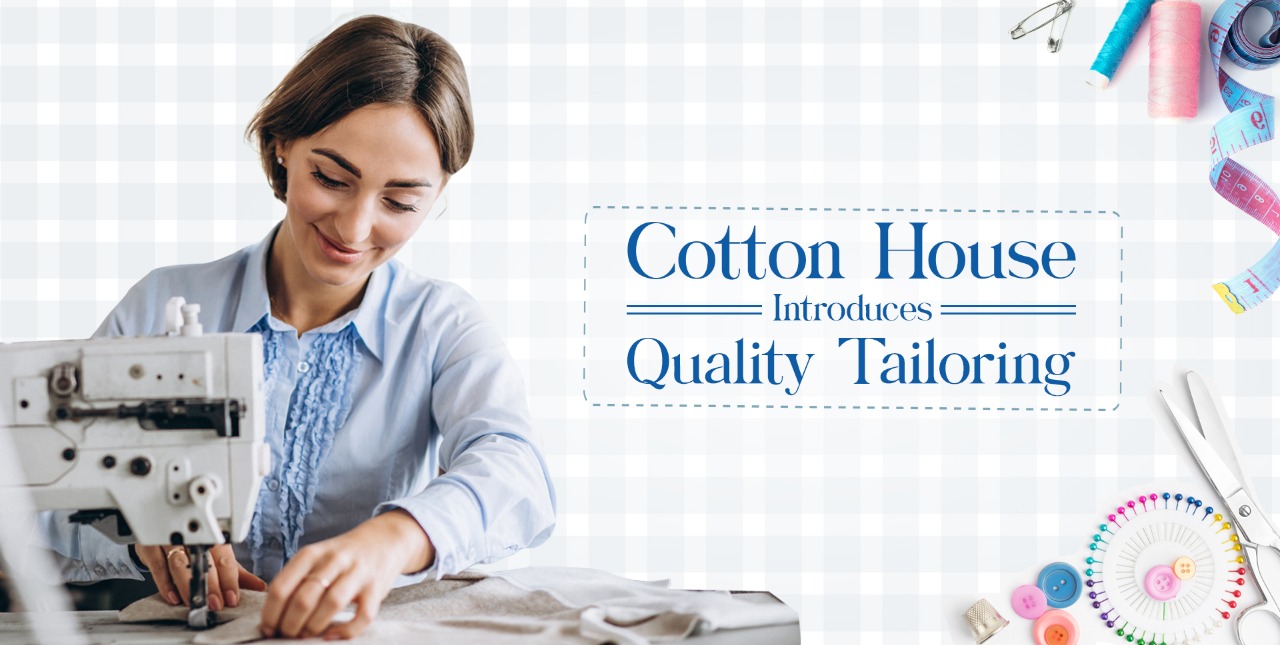 Most people end up buying clothes that get advertised in particular sizes. Each year, millions of us have to spend many hours trying on items until we find costumes that fit. As you can imagine, it's a ritual that we'd rather not have to endure, but we feel we have no choice.
A team of experts with handful experience of tailoring and years of expertise provide the best designs that suit you and your clothes. They understand your expectations and make sure that they do their job perfectly. That's why we stand as one of the best places for sarees stitching in chennai
This new venture into tailoring was introduced specifically for women and Children. We realized that the need of tailoring is very much important for us as we can make sure that our customers can step out of the showroom with full confidence that what they had bought is right and it absolutely fits. We ought to give that trust to each one of them who trust us and believe that we provide only quality garments.
Importance of Tailoring
Sometimes we buy clothes that we fall in love with at a store. But, because they don't fit so well, we seldom wear them. Many of us will even promise ourselves to lose weight, for example, to "fit into" them. Others may need to resort to folding up sleeves or legs because they are too long.
As you can imagine, those negatives outweigh the positives of some garments that we buy. Wouldn't it be great if you could wear everything you buy and not worry about the cut? That's where professional tailoring comes to play.
For Women
Cotton house is very much known for its quality and stands as one of the top textile shops in providing quality lady dresses in Chennai. We also felt that it is important to make them feel that they are making the right choice by coming here. Our team of experts have years of training in the field of tailoring. Specifically for women, it's always important to make sure that their clothes hove the designs they desire. Even luxe clothes can be spoiled by ill-fitting shoulders, loose straps, gaping blouses and bulging waistbands. The difficulties multiply with age; after 40, it can seem that nothing fits well.
Sometimes, they might like the quality of the cloth but there won't be an embroidery that they want. It's here that out experts come to play. Their expertise includes stitching all kinds of clothes for women including skirts. Thus, making our customers feel satisfied.
For Kids
Kids love designs. Kids love their clothes being colourful. Cotton house understands this very much and that is the reason that it's one of the top in providing various kinds of Kids wear in Chennai. Kids also have choices when it comes to wearing dresses. Every parent wants their children to wear different types of lovely attires, Our team of experts who understands this mindset of kids and have a rich experience in designing clothes in various models including fantasy elements, comic characters, etc.
Thus, Cotton house has now initiated this tailoring for our customers to make sure that they walk out of Cotton house with confidence and Satisfaction